Call Down Thunder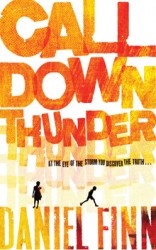 You may love your family but
what if:
Your father is murdered
Your mother disappears
Your sister is  so strange that she lives in a rusty car on the edge of the ocean, and she hears voices.
And you want your family back. You want to put things right.
Your name is Reve and you are standing at the eye of the storm and your sister, Mi, is about to call down thunder.
"Sharp as a blade and absorbing as quicksand . . . electrifying" Meg Rosoff
"Every character is drawn with brilliant precision, gradually building up a portrait of a community that has, contrary to appearances, kept the two abandoned children alive in a society so violent and brutal that men fight with knives and machetes. It's a story about survival, loyalty and devotion, but it's also about heroism — always best to find in unexpected places as well as people." Amanda Craig, The Times
"Daniel Finn's Call Down Thunder tells how Reve, a young Mexican fisherman, struggles against corruption within and outside his small community. At a time in Young Adult publishing where concept is sometimes held to be more important than literary execution, this exciting story is also beautifully written." Nicholas Tucker, The Independent, children's books of the year 2012
"Daniel Finn's compelling Call Down Thunder is a brother-and-sister adventure set in the barrio which is sure to engage confident readers." Amanda Craig, The Times, children's books of the year 2012
"A book by an author who gets less attention than he deserves is Call Down Thunder by Daniel Finn. The story of siblings searching for their mother in a violent world, it is a richly ­characterised tale by a skilled writer, reminiscent of Mal Peet" Nicolette Jones, The Sunday TImes, children's books of the year 2012
"It's good. In fact, I'm beginning to suspect that Call Down Thunder is one of the best books I've read this year. Call Down Thunder is not like other books . . . Daniel has packed a lot into 300 pages. There is absolutely no waffle, and the dialogue is in some sort of dialect, which curiously enough doesn't grate on the reader's eyes. It's just perfect. There's a whole cast of fascinating characters, and so very believable. You must read this. It's yet more proof that the best books aren't necessarily written by the best known writers." The Bookwitch
"Hair like flame burning around her face, lips a little apart, like she was about to say something. So close he could almost touch her, except he couldn't move. He couldn't breathe. He couldn't think. It wasn't possible. It was his sister, it was Mi. And it wasn't her. Long dark strands of weed reached up and stroked across her face, criss crossed, as if tightening like a net . . . He stared so hard his eyes felt as if they were about to tear out of their sockets and every tendon on his neck, was bunched up tight. And his heart was hammering in his chest and he couldn't believe what he was seeing and yet there she was . . . "