Two Good Thieves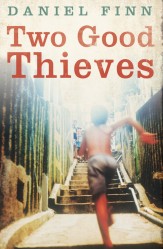 To be a good thief, there are three things you need:
You need to be faster than light.
You need to be invisible.
And, most of all, you need to be lucky.
In a city of thieves, you need to be the best to get ahead.
Demi and Baz are the best. Demi has the gift of speed- he can pick a pocket and be gone before his victim has even noticed he was there. Baz is his lookout- no one sees her unless she wants them to.
But one day, almost by accident, they steal a dazzling, priceless jewel – and make a very dangerous enemy.
In a city of thieves, some things are worth more than life itself. With the Shady Man on their tail and the police after their blood, Baz and Demi need all the luck they can get.
Some stories come together in strange and haphazard ways: a picture in a magazine, something someone says, a report in a newspaper, even stories you read as a child; and they get tucked away somewhere in the ramshackle attic at the back of your mind. But you never quite forget them and gradually they nudge towards each other until they become pieces that look like they might belong to the same puzzle.
That's what happened here. I didn't know where the city was, but I could see the dried up river, the steaming barrio with its twisting alleys, and then I heard Baz and she started to tell me the story.
Reviews
"You can smell this book, and taste it, and feel it, and your heart beats fast, fast, when its characters are running for their lives . . . A book so emotionally engaging that's such a page-turner is rare indeed . . . for readers of any age." Erica Wagner, Literary Editor, The Times
'Two Good Thieves leaves you dry-mouthed, it's extremely sharply written, and it's a keeper.' Kevin Crossley-Holland, prize-winning author of the Arthur Trilogy
"Intense, powerful and moving, Two Good Thieves is both an indictment of a world corroded by corruption and poverty, and a touching story of the endurance of friendship." Anthony McGowan, prize-winning author of The Knife That Killed Me
"The heat and humidity of its exotic South American setting adds palpable tension to a fast-paced thriller . . . Breathless and exciting, this makes for perfect summer reading" The Bookseller
"A terrific new talent . . . Dramatic, fast-paced and full of the kind of passionate compassion that never intrudes, Two Good Thieves is a treat." Amanda Craig, The Times (read the full review)
"The characters are fantastic. I wanted to feel sorry for Demi and Baz and their situation, but they're so resilient and ingenious that it makes this almost impossible . . . This book was over before I knew it; I was totally hooked into this unbelievably believable world." Jason Mark Curley, The Bookbag (read the full five-star review)
"A terrific, nail-biting thriller, Two Good Thieves captures the harsh world of a gang of child pickpockets surviving on the streets of a South American city . . . As the tension mounts the delicate balance of relationships between the children and their need for each other for survival is poignantly told." Julia Eccleshare, LoveReading4Kids (read the full review)
"A book that I would never normally read . . . was Two Good Thieves by Daniel Finn, and how grateful I am that I did. It's gritty social realism . . . where everyone speaks a kind of patois but it shows how children can manifest, in a hellish world, heroic loyalty and courage." Melanie McDonagh, Evening Standard (read the full review)
"Finn expertly builds up a picture  . . . of the searing heat and squalor . . . Baz has a core morality to her but Finn does not impede the white-knuckle ride of this thriller with unrealistic sentimentality." Dinah Hall, The Sunday Telegraph (read the full summer books round-up)
"A very gritty, fast-paced adventure, rich in atmosphere and drama that will appeal to any age that appreciates an edge-of-your-seat thriller." Sally Morris, Daily Mail
"[An] exciting, involving story . . . Finn writes curt sentences, perfectly suited to action sequences, and the book really comes alive in its fights and chases, following its characters through the backstreets of the slums." Josh Lacy, The Guardian (read the full review)
For a different type of tension, Daniel Finn's The Good Thieves (Macmillan, £9.99) is a superb story set in a South American favela where stealing is a way of life. Baz and Demi, the junior thieves, are expert pick-pockets. But when they take on their superiors in crime, things get very rough indeed. Impossible to put down, this is an excellent novel. Nicholas Tucker, The Independent