Rip Runner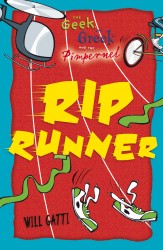 Mystery adventure, 10+
Sir Pent is back, and is more powerful and dangerous than ever before. He has become a minister in the government and has weaseled his way into the world of sport. He is determined that his own private team of athletes win the Junior Olympics, and he'll stop at nothing, not even kidnap, to get his runner up on the podium.
And who is there to stop him?
Step forward the master of trickery, disguise and ingenious invention: the Pimpernel. And his unlikely helpers: the Geek and the Greek.
Let it RIP!