The Drowning Pool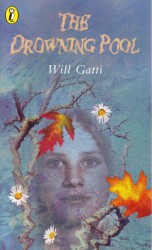 Mystery drama, 11+
I really like Kate. This is her story and she's very honest – though, as she tells us pretty early on, she, well, makes things up, 'not lies exactly but they just slip out . . . I suppose they are lies.' That's her. She has a fluffy glove puppet called Rabbit that she talks to quite a bit; ever since her younger brother got killed in a road accident.But it wasn't her fault.
I know it wasn't but she's not so sure, which is maybe why she and her mum don't get on so well.
They have moved into a new house that backs onto a deep wood. And woods are always dangerous, and shadowed with secrets and old stories, one of which has strange echoes with Kate's own life.